So ... did you notice the new Blog Design??!!!
(if you didn't, shame on you!) ;)

AHHHHH!
I.LOVE.IT!!
and she was amazing!!!

She listened to exactly what I wanted --
and the final result exceeded ALL my expectations!

Don't you just LOVE the colors?!
So Nautical. So fresh. So PREPPY! ;)
I must have sent her 75 emails - (not a joke)
and she graciously (and patiently) replied to all of them! :)


So do you need a new design?
Or an Etsy banner?
Or anything else Blog related?!
Courtney is your girl!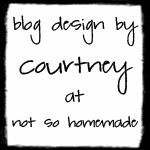 Go check out her awesome designs and tell her DOPM sent you! :)

So what do you think?!